More Information
[youtube https://www.youtube.com/watch?v=fWcwEw2CB_Y&w=560&h=315]
Macoby Run is thrilled to have been featured on Inside Golf with Harry Donahue on NBC Sports Philadelphia! You can watch the episode in full on YouTube by clicking the video above. Thanks again to Harry and the entire Inside Golf crew for showcasing our golf course. Macoby Run has never looked better!!!
Aidan's Graduation Special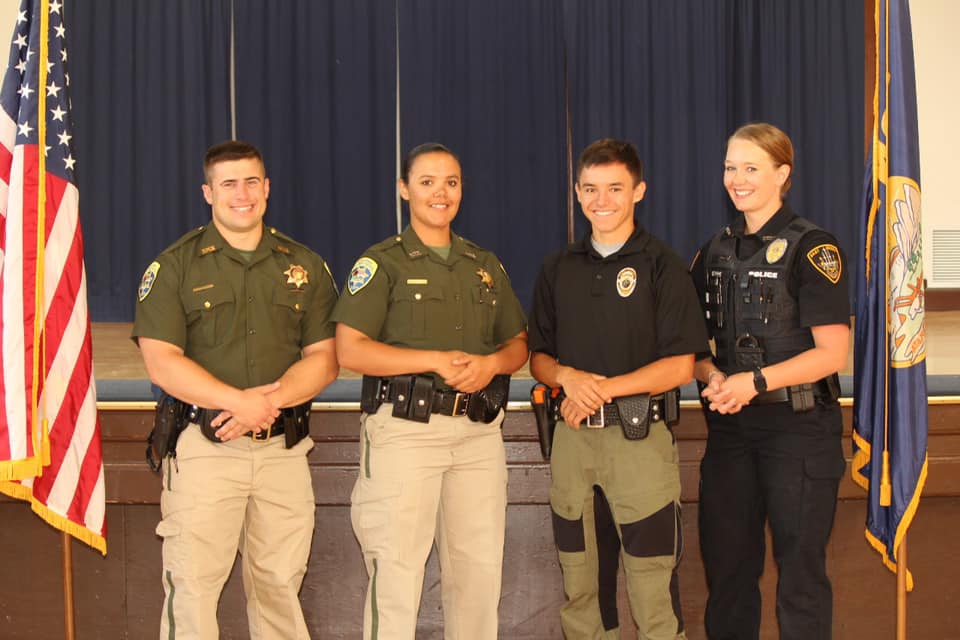 This coming week, September 19th to be exact, former Macoby Run employee and Sheila's oldest son, Aidan Schaffer (pictured left) will be graduating from the Montana State Highway Patrol Academy, upon which he will then be patrolling the highways in Bozeman, Montana!
To celebrate this momentous occasion for the Hersh/Schaffer family, please join us at Macoby Run this weekend for a discounted round of golf! The weather is supposed to be perfect! This Saturday and Sunday, September 14 and 15, ride or walk for just $29 after 12:00 noon! To book your tee times, please call the proshop or visit our website and book online.
We look forward to seeing you, and congratulations Aidan!!!
Don't Hang Yourself 2-Person Scramble
Macoby Run's 16th Annual "Don't Hang Yourself" 2-Person scramble event will be taking place on Sunday, October 27th with an 11:00 am shotgun start! This is the tournament where your team receives 6-feet of rope and can cut the rope to move the ball into the hole and improve your score! The price is $55 per player ($110 per team) and that includes golf, cart, practice balls and food/drink both during and after the round. For more information or to access the registration form, please click the link below. If you have any questions, or would like to sign up, please visit the proshop.
Macoby Run Fall Corn Hole Tournament
Please join us for Macoby Run's 2nd Corn Hole Tournament of 2019! The Fall Corn Hole tournament will take place on Saturday, November 2nd, with a start time of 2:00 PM. Registration is limited to the first 64 teams (128 people) who sign up and pay in full. The price is $40 per person ($80 per team) and that includes entry into the tournament, as well as food and drinks that will be served throughout the course of the event. Each team is guaranteed at least 3 games, and there will be no spectators allowed (You must be participating in the Tournament to attend the event). *Any participant under the age of 21 must be paired with a parent or guardian in the tournament* For more information, please click the link below. To sign up, please visit the proshop or the bar.
1st Annual 3 Clubs & a Putter 4-Person Scramble Results
Thank you to everybody who participated in our 1st Annual 3 Clubs & a Putter Scramble on Sunday, August 25th! We couldn't have asked for a better weather day in August, and a great time was had by all! We hope you'll all be back to join us for the 2nd Annual tournament next year! The following are the results from the tournament…
1st Place – Dan Rotenberger, Tom Paul, Dave Teufel, Rob Teufel 57
2nd Place – Dave Ott Sr., Dave Ott Jr., Rob Miley, Brandon Dell 62
3rd Place – Chuck Warner, Andrew Baker, Kelly Krieble, Bob Walsh 63
Closest to Pin #4 – Dave Ott Sr. 3-feet
Closest to Pin #9 – Rob Miley 10-feet, 7-inches
Closest to Pin #11 – Rick Beran 10.5-inches
Closest to Pin #15 – Mike Tscheschlog HOLE IN ONE! – Mike received a 2020 Macoby Run Blue Sky Membership as a prize for his Hole in One on #15 during the outing. Congratulations Mike!
There were 4 skins won during the event, and if no skins had been won, we were going to donate the skins money to the victims of the Lumber Street flooding. The group captained by Brian Stahley graciously donated $40 to the victims, and Macoby Run will be adding $60 to that for a $100 donation! We hope this helps those affected by the flooding, every little bit counts!
28th Annual Floyd Open Results
We would like to sincerely thank all of the golfers, sponsors, and workers that helped to make the 28th Annual Floyd Open such a success!! It's the 100-year Anniversary of the Hersh Family Farm and we know Floyd was looking down when he blessed us with a spectacular weekend! The following are the results for this year's Floyd Open!
1st Place: Charles Crawford, Clay Brittin, Chet Crawford, Tate Crawford (57) (Match of Cards, Birdie on #3, 1st Handicap Hole)
2nd Place: Rob Miley, Dave Kendall, Dave Howard, Robby Bunton (57)
3rd Place: Stan Yelito, Joe Imburgia, Geoff Quinque, Andrew Stoudt (58)
Closest to Pin #4: Clay Brittin HOLE IN ONE!
Closest to Pin #11: Mark Hogan 11-inches
Closest to Pin # 15: Mark Clifford 3-feet, 6-inches
Women's Longest Drive: Robin Clevenstine
Men's Longest Drive Age 49 and under: Eric Olinick
Men's Longest Drive Age 50-61: George Karpus
Men's Longest Drive Age 62 and over: Mark Hogan
1st Place: Mike Hefner, Brian Weirback, John Furlong, Andy Vera (58)
2nd Place: Roberta Simmons, Vince Helo, Andy Hawkins, Daniel Loose (59)
3rd Place:  Geoff Quinque, Amanda Quinque, Kyle Smith, Nick Niess (61)
Closest to Pin #4:
Closest to Pin #11:
Closest to Pin # 15:
Women's Longest Drive:
Men's Longest Drive Age 49 and under:
Men's Longest Drive Age 50-61:
Men's Longest Drive Age 62 and over:
1st Place: Kyle Smith, Geoff Quinque, Nick Niess, Matt Neuber (58) (Match of cards, Eagle on #6, 6th handicap hole)
2nd Place: Glenn Link, Joe Dulin, Andy Hawkins, Brian Johnson (58)
3rd Place: Joel Hoffman, Justin Tarpey, Neil Halberstadt, Pete Brickman (60)
Closest to Pin #4: Jody Peart 10-feet, 6-inches
Closest to Pin #11: Jeff Stemple 5-feet
Closest to Pin # 15: Brian Johnson 4-feet, 3-inches
Women's Longest Drive: Wanda Reed
Men's Longest Drive Age 49 and under: Geoff Quinque
Men's Longest Drive Age 50-61: Chuck Lancaster
Men's Longest Drive Age 62 and over: Fred Fels
Macoby Run Golf Course is thrilled to be featured as a part of the Summer Travel campaign for Valley Forge and Montgomery County, Pennsylvania! The Valley Forge Tourism and Convention Board unveiled a new commercial for the campaign on May 16th during their Travel Rally Day. Here is what they had to say about the advertisement:
"The day's theme – Faces of Travel – fit in perfectly with our new commercial that highlights those working behind the scenes to create the visitor experience in Montgomery County. The commercial will play locally on 6abc, but the big push is for out-of-market leisure travelers. It will air in the New York, Washington, D.C., and Baltimore markets between now and the end of summer."
You can view the new commercial below. We could not possibly be more excited to be featured in this commercial!
Thank you to the Valley Forge Tourism and Convention Board for choosing us to be included in their campaign!
[youtube https://www.youtube.com/watch?v=AKhVKqROkuw?rel=0]
ABOUT US
Nestled in upper Montgomery County is where a farmer from days of old realized his dream of trading in the plows for greens mowers and field corn for bent grass.
If you would take yourself back 75 years, Macoby Run was an operating farm of crops and cattle. It was owned and operated by Floyd Hersh and his family who moved to the property in 1919. As farmers found it increasingly difficult to provide for their families, Floyd made the decision in 1964 to make his living in the construction industry and farming became his hobby.
One hobby Floyd never boasted about much was his love of golf. At the time golf was considered a sport only for the elite and not many played the game. As a farmer, Floyd had the opportunity to travel the surrounding counties and inspect various land properties. During the 1960's he began to see farms yielding fairways instead of crops. It wasn't until nearly 30 years later that he would turn that hobby into his livelihood.
Through nothing but hard work and determination Floyd's dream finally became a reality in 1990. Macoby Run Golf Course opened 9 holes in September of 1990. A few months later the round was increased to 12 holes and by Spring of 1991 the full 18 hole golf course was born.
Floyd Hersh passed away in September of 2000 but his family still resides on the homestead, his construction company still operates at its' original location and his family continues his dream of owning and operating the 18 hole golf course which was his brainchild.
Utilizing the naturally rolling terrain and woods of upper Montgomery County farm country, Macoby Run Golf Course offers an excellent variety of challenges to compliment the breathtaking vistas you will experience throughout your round. The front 9 holes have 138′ of elevation change with hills and trees to keep you on top of your game. The back 9 holes offer a bit of a reprieve with slightly less hilly and more open terrain. No two greens are the same and the two-tier green on #3 will challenge the truest putting skills.
Our golf staff is courteous, professional and eager to help you have the best experience possible while you enjoy your country retreat. Macoby Run is kept in pristine condition with country club quality greens maintained by our grounds crew for over 20 years. The pavilion and Wetlands Bar & Restaurant allow you to enjoy your golf tournament and post golf activities in one location.
Whether you're a first time golfer or a seasoned pro, a family or a business outing, Macoby Run has something for everyone. Let us entertain you and yours at Macoby Run where fun, family and friends are par for the course.
Testimonials
"We were thrilled that our daughter and son-in-law chose to have their wedding at Macoby Run Golf Course because it's a great family-owned, family-run establishment off the beaten path. Sheila and her staff literally rolled out the red carpet for them; allowing a limitless amount of options not only for food but also drinks and the opportunity to really personalize the pavilion. The family and staff were very accommodating and frequently asked if they could do anything else for us. With the roll down sides, the pavilion can transform into an indoor space but guests at the wedding appreciated being "outside" for an early October wedding with spectacular views. And to top off the night, the newlyweds danced their last dance outside the pavilion underneath the harvest moon. If you are looking for a backyard setting for your wedding but without all the stress, I would highly recommend Pearl's Pavilion at Macoby Run Golf Course; you will not be disappointed!!"
"Sheila, what a great day we had at our Annual Golf Tournament. We wanted to take the time to say 'Thank You' again for giving us the unique privilege to use your course as our Tournament course. You are great hosts. Thank you for the well maintained facility and new pavilion and for the way you make yourself available during the day as needs arise. We were so encouraged by so many who came together to make this event better and more of a success than ever."
"We were recently married at Macoby Run Golf Course and I cannot fully express how incredibly perfect our wedding and reception were! This was really the perfect location as we were looking for an intimate, low key and relaxed setting, something close to our original plan of a backyard wedding, without having to break the bank. Sheila was incredibly flexible, patient, and genuinely cared about making sure our day went as smoothly as possible, she even helped our "Flower-Grams" begin their walk down the aisle for our ceremony. I also LOVED that we were able to add our touch, we walked down an aisle lined by white pumpkins and had our ceremony under one of their towering oak trees. About half of our guests are not from the area and could not stop complimenting the location, food, and relaxed atmosphere at Pearl's Pavilion. We are so thankful to have had such an unforgettable wedding here and have and will continue to highly recommend Macoby Run to anyone!"
"Have been playing here since early 90's the course just keeps getting better, quite a challenge but still lots of fun! The family that owns the course and all there help have always been the best, hope to be able to play this course for many years to come."